Cooperative's Facebook Competition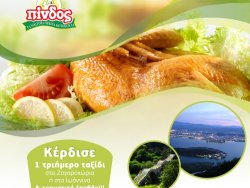 From today we play with Pindos and win 3days trips and cash prizes!
Take part in our competition simply by making like to our page and by answering two simple questions. If you wish, send us a recipe as well and win 10 additional participations!
All participants enter the draw for 5 three-days trips to Zagorohoria or to Ioannina, while the three most original recipes by category win 1 extra trip and cash prize!