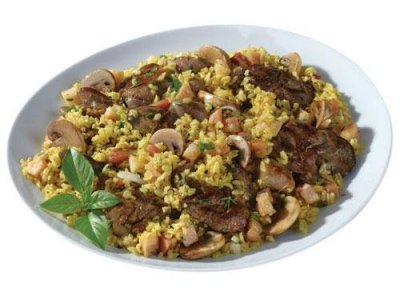 Rice with chicken's liver
Impress your friends with rice and PINDOS chicken's livers.
Difficulty level:

Medium

Preparation:

01:10
Materials
230 gr. Pindos chicken's livers
50 gr. butter
230 gr. brown rice
1 onion cut in small pieces
1 clove cut in small pieces
120 gr. cut in small pieces smoked bacon
1 ½ cup of chicken juice
130 gr. white mushrooms cut in slices
A few saffron
1 leaf laurel
A few thyme
Parsley cut in small pieces
Salt
Pepper
Preparation
In a deep pan sauté the butter with the onions and the clove for a few minutes (till they are soft).
Put the bacon, the mushrooms and the livers and fry them for 6 minutes, by mixing every once in a while.
Add the juice and when it starts to boil put the rice (which we have soften for an hour in water), the laurel, the saffron and the thyme and leave the food to boil slowly until the rice is done. Mix every once in a while.
Add the parsley and serve.
More recipes
Κοτόπουλο με μπάμιες, πετιμέζι και μπαλσάμικο
Κοτόπουλο με μπάμιες, πετιμέζι και μπαλσάμικο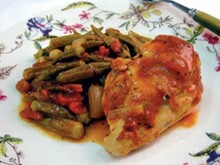 Difficulty level

Medium

Preparation

01:10
Κοτόπουλο με ντομάτες, πιπεριές και αρωματικά
Κοτόπουλο με ντομάτες, πιπεριές και αρωματικά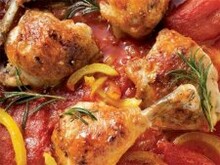 Difficulty level

Easy

Preparation

01:00
Κοτόπουλο με λιαστά ντοματάκια και κουσκουσάκι
Κοτόπουλο με λιαστά ντοματάκια και κουσκουσάκι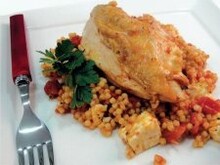 Difficulty level

Medium

Preparation

01:00
Κοτόπουλο φούρνου με πιλάφι, φέτα και μανιτάρια
Κοτόπουλο φούρνου με πιλάφι, φέτα και μανιτάρια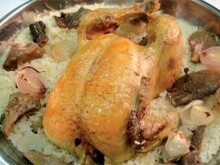 Difficulty level

Medium

Preparation

01:10