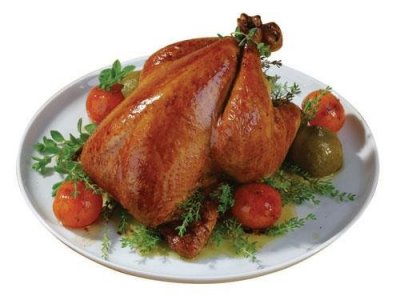 Chicken of Hesperides
Chicken is a light and healthy food, rich in proteins, Iron and Vitamin B.
Difficulty level:

Medium

Preparation:

01:10
Materials
1 free range or biological chicken
Olive oil
Pepper
Sweet paprika
Salt
5 spices
4-5 tangerines
1-2 small lemons
A few leaves of lemongrass (or 1-2 leaves of sage)
A few branches of fresh thyme
One unrefined onion
One clove
One beer
Preparation
The night before:Wash very well the chicken and dry it with kitchen paper. Put it in a large bowl and pour with beer. Put some branches from our aromatic herbs. Turn it around so the ingredients mix well.
Preparation
The next morning: The next morning
We remove the chicken from marinata and we strain it well in strainer.
We mix all the spices in a bowl
We lightly oil our pan or a fire resistant pan
At the bottom of the pan spread some branches of thyme
In the chickens belly put one or two branches of thyme and some leaves of lemongrass or sage.
Put the chicken on the thyme
Wash very well the fruits and dry them. With a sharp kitchen knife line them so that the juices come out during baking. Put the fruits in the pan. The skin with the ethereal oils will give sweetness in the food, while their juice is slowly baking them. Don not add water.
Wash the onion and the clove, dry them and without cleaning them put it the pan.
Leave the chicken to fry. The chicken is ready when it makes a crisp, dark crust.
Remove the chicken from the baking pan, remove the herbs as well from the chicken's interior and put it in a hot plate. We maintain it hot.
Take the flesh from the onion and the clove. In the sauce plate we put the juice from the baking pan, the clove's and onion's pulp. Mix well.
Serve the chicken in a sauce plate by putting next to it the sauce and right next a big sauce plate with boiled vegetables: Brussels cabbages broccoli or aromatic potatoes.
More recipes
Κοτόπουλο φούρνου με πατάτες, πορτοκάλι και δεντρολίβανο
Κοτόπουλο φούρνου με πατάτες, πορτοκάλι και δεντρολίβανο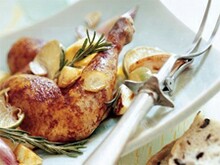 Difficulty level

Easy

Preparation

01:00
Σουβλάκια κοτόπουλο με μέλι και μουστάρδα
Σουβλάκια κοτόπουλο με μέλι και μουστάρδα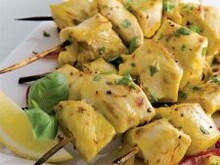 Difficulty level

Medium

Preparation

00:30
Ψητό κοτόπουλο με λαχανικά
Ψητό κοτόπουλο με λαχανικά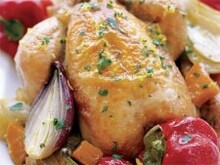 Difficulty level

Medium

Preparation

01:00
Ψητό κοτόπουλο με μέλι και μπαλσάμικο
Ψητό κοτόπουλο με μέλι και μπαλσάμικο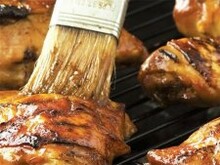 Difficulty level

Easy

Preparation

01:00