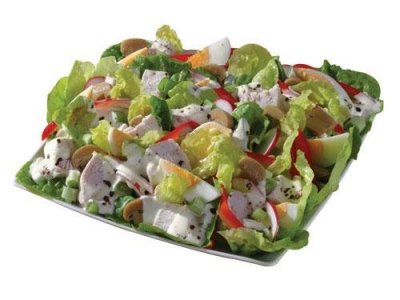 Chicken salad with mushrooms
Pindos chickens arrive from the mountain….to your table!
Difficulty level:

Easy

Preparation:

00:10
Materials
For the salad:
4 fresh Pindos chicken breasts boiled and cut in cubes.
100 gr mushrooms cut in slices
1 red pepper chopped in small pieces
6 fresh onions chopped in small pieces
6 radishes
A few leaves of lettuce
For the sauce:
3 spoons mayonnaise
4 spoons light yoghurt
A few carry powder
Lemon scrap
Salt
Pepper
For the garnish:
Preparation
Sauce: Mix all the ingredients of the sauce
Salad: we put the chicken, the peppers, the mushrooms, the radish and the onions in a bowl, pour the sauce and mix very well all our ingredients
In a salad bowl we put the lettuce, pour the mix we made, garnish with eggs and serve.
More recipes
Εξωτική σαλάτα κοτόπουλο
Εξωτική σαλάτα κοτόπουλο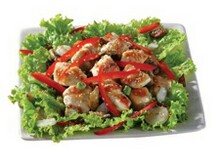 Difficulty level

Easy

Preparation

01:10
Σαλάτα Πανδαισία με κοτόπουλο
Σαλάτα Πανδαισία με κοτόπουλο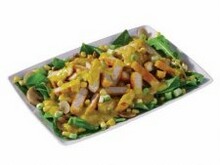 Difficulty level

Easy

Preparation

00:30
Σαλάτα με κοτόπουλο
Σαλάτα με κοτόπουλο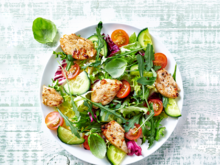 Difficulty level

Easy

Preparation

00:30
Σαλάτα με αρακά, πατάτες, φιλέτο καπνιστό κοτόπουλο και αβγά ποσέ
Σαλάτα με αρακά, πατάτες, φιλέτο καπνιστό κοτόπουλο και αβγά ποσέ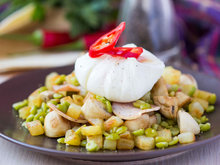 Difficulty level

Easy

Preparation

00:20