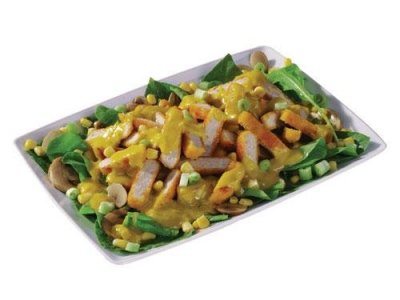 "Pandaisia" salad with chicken
An amazing salad with ready baked chicken nuggets PINDOS.
Difficulty level:

Easy

Preparation:

00:30
Materials
Ready baked chicken nuggets PINDOS
300 gr. spinach
300 gr. strained corn
130 gr. mushrooms
2 soup spoons fresh onions cut in small pieces
Arugula
5 soup spoons olive oil
½ soup spoon of lemon juice
Lemon scrap
Some brown sugar
Some mustard
Salt
Pepper
Preparation
In a deep frying pan prepare the baked chicken nuggets as it is written on the packing, and continue by sautéing the mushrooms.
Prepare the salad, by mixing all the vegetables together.
Cut the nuggets into straps and put them in the salad.
Prepare the dressing by mixing all the ingredients together and pour on the salad.
More recipes
Εξωτική σαλάτα κοτόπουλο
Εξωτική σαλάτα κοτόπουλο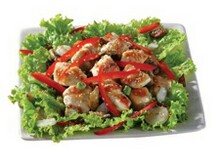 Difficulty level

Easy

Preparation

01:10
Κοτοσαλάτα με μανιτάρια
Κοτοσαλάτα με μανιτάρια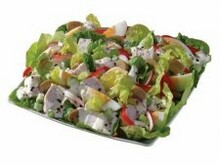 Difficulty level

Easy

Preparation

00:10
Σαλάτα με κοτόπουλο
Σαλάτα με κοτόπουλο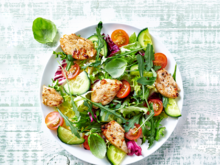 Difficulty level

Easy

Preparation

00:30
Σαλάτα με αρακά, πατάτες, φιλέτο καπνιστό κοτόπουλο και αβγά ποσέ
Σαλάτα με αρακά, πατάτες, φιλέτο καπνιστό κοτόπουλο και αβγά ποσέ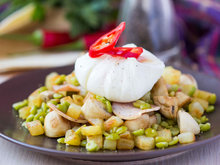 Difficulty level

Easy

Preparation

00:20