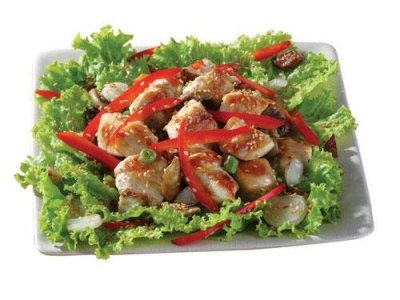 Exotic chicken salad
We first, in Pindos acquired the certification of guarantee of quality ISO 9002, the model of operation HACCP and the certification Agrocert specifically for the Chickens of Free Pasturage.
Difficulty level:

Easy

Preparation:

01:10
Materials
4 fresh thigh or breast chicken Pindos filets cut in cubes
2 fresh onions cut in slices
1 cup of mushrooms cut in slices
3-4 chestnuts boiled and cut in small pieces
2 spoons of sesame
2 spoons of soya sauce
1 spoon of dry, white wine
Olive oil
Salt
Pepper
1 crispy green salad (whole leaves) 
1 red pepper cut in straps
Preparation
We mix the soya sauce with the wine
We heat up the olive oil and sauté the onions, the mushrooms and the chicken in low fire
Add the chestnuts sesame, the mix with the soya sauce and the pepper (a little salt because the soya sauce is already salty).
We serve on the leaves of the salad and garnish with the pepper straps.
More recipes
Κοτοσαλάτα με μανιτάρια
Κοτοσαλάτα με μανιτάρια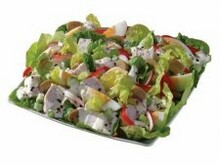 Difficulty level

Easy

Preparation

00:10
Σαλάτα Πανδαισία με κοτόπουλο
Σαλάτα Πανδαισία με κοτόπουλο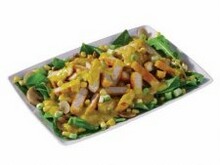 Difficulty level

Easy

Preparation

00:30
Σαλάτα με κοτόπουλο
Σαλάτα με κοτόπουλο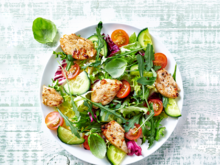 Difficulty level

Easy

Preparation

00:30
Σαλάτα με αρακά, πατάτες, φιλέτο καπνιστό κοτόπουλο και αβγά ποσέ
Σαλάτα με αρακά, πατάτες, φιλέτο καπνιστό κοτόπουλο και αβγά ποσέ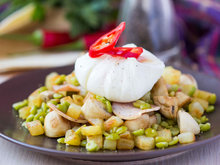 Difficulty level

Easy

Preparation

00:20